Overview
3TMAN (short for an easy Multimedia Authoring tool for everyoNe) is an easy and powerful graphical tool to design complex and sophisticated multimedia in a WYSIWYG manner, i.e. authors can integrate different media into their multimedia project, synchronize them, make hyperlink, etc., and then switch between editing and playing modes to see immediately editing results, and finally export their multimedia project to several multimedia presentation format standards to distribute.

Main screen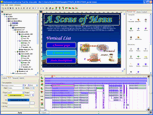 Main screen provides a global view on a multimedia project including a logic structure view, a spatial layout of a selected scene, a global temporal organization (timeline) of multimedia project and a selected media object (such as content, style, temporal and spatial).

Logic structure view
The logic structure view of multimedia project will help authors to manage their project such as direct navigation on and modification in project, and to guide authors to insert new media objects and to create new structures for their projects in a coherence manner.
Spatial edition/execution view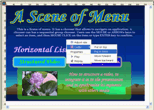 The spatial edition/execution view is the central view. It allows to edit on 2.5D space (x, y and z-index) the layout and to place media objects in a WYSIWYG manner. It is also the execution view of project.
Timeline view

The timeline view provides a global view on the temporal organization of the multimedia project. Through this view authors can quickly navigate and modifier the temporal organization of project.
The timeline view is scalable, i.e. authors can zoom in/out to fix their view on the temporal layout. Authors can also select a portion of timeline to view it in another window to easier management and edition on this portion.
Properties view

The properties view provides a rich way to visualize and modify properties of a selected element in the project. It comprises of four forms integrated in a Tabbedpane, a component that lets the user switch between a group of components by clicking on a tab with a given title and/or icon.
The element's properties are properly grouped in four types (content, style, temporal and spatial).
Toolbar